Energy and humanity
Perhaps there exist as many experiential definitions of energy as there are humans. It relates to vibration, atmosphere, heat, radiation, connection, power and flow. All these terms have a multitude of meanings in various realms. Below, I firstly write about the very precise definition of energy in the physical-scientific realm, the Newton meter, also known as the Joule, and the challenges to humanity to ensure its provision.

Humanity and controlled physical energy
Suppose we can live on this planet in a way that we are comfortably heated, well-fed, healthy, joyfully connected to the ones around us, that we have access to relevant and interesting information, that we are able to prevent harm or accidents, and that we can travel around, ...without destroying the biodiverse ecosystems on that same planet.
For all those wishes, we need energy. And because we are with many and we like to use it, we want a lot. Here, "many" is 8 billion people and "a lot" is 19 terawatt power, and both numbers are increasing. 19 terawatt is 19 trillion Joules per second. A Joule is a Newton meter. So, humanity accelerates 19 trillion kilogram one meter per second per second over one meter, every second. Kilogram of what? Of mass. In the form of particles, vehicles, boxes, arms, trains, tracks, fluids, ...
Temperature is, physically speaking, the amount of random particle-jiggling around an equilibrium. So from a purely physical perspective, humanity and life are organised engines of structure-creating jiggle-machines.
These engines are at work in cells inside our body, in animals, in plants. In the air, in the waters, in the ground. During our journey of inventivity, we have learned to devise tools to amplify our own muscles and to unlock other machines to produce jiggling, to make even more machines jiggle. For example, in a fire, the jiggling from a burning piece of wood makes other wooden pieces burn too.
Burning is the process in which atoms restructure to find more stable molecules and to release energy. This energy, in the form of heat, then stimulates the same process in other molecules close by in which such a reorganisation is energetically favourable.
With the knowledge and skills to control these processes, we are able to move heavy things, transform metal, erect tall buildings. It went hand in hand with the growth of our population and our economical structuring. There seems to be a driving impetus to the enhancement and materialisation of this knowledge. Also markets, products and supply chains are organised to stimulate more consumption, transport, building, ...
To some, population sizes are a root cause of our challenges in itself. Relating to energy it is the product of the population distribution and the energy consumption distribution. An individual's monetary wealth scales remarkably linear with their energy consumption. This is illustrated by the increasing energy needs of a fridge, car, phone, office, of infrastructure, flights, castles, ...
How our energy consumption grew
Do we have an energy problem?
Looking at the figure above, one should be impressed by the enormous post-war growth of the oil-driven global industrial enterprise we call Economy. It allows billions to eat meat, stream videos, order clothing from across the globe. The trend is so stark, that a quick reduction of overall energy usage seems unlikely. Furthermore, there are billions who are (made) jealous to those who so easily access those services and entertainment. Therefore, more demand is easily created.
And more supply?
The best studies we undertook show a strong correlation between certain particle concentrations in the air and the average temperature on the Earth's surface. The effect of the particles being analogous to the roof of a greenhouse: reflected light waves (radiated heat) stay trapped in the system. We know this for quite a while now. In fact, climate models predicting human-made atmospheric warming have been right for 50 years.
This means that although Peak Oil may be years from now, there is a strong imperative to reduce the outlet of said particles strongly. At the same time, the challenging assignment - or stubborn desire - is to maintain the current level of luxurious services. This requires other means of energy conversion, more sophisticated, more clean, more recyclable. However, if you want something that is good, and you want it fast, it's often not cheap.
Bang for your buck
As the world of energy is so vast (the energy market is the single largest market in the world), it takes a long time and a lot of effort to make changes in its composition. Perhaps it will take too long and too much effort for us to maintain our current standards of living, i.e. the very low amount of work we have to do to get fresh food and videos all day.
The world as we know it runs on the energy that fuels it. And we have found ways to make use of great energy conversions. Life on Earth runs on the mechanism that carbohydrates form good bonds. And so, burning carbohydrates is an amazing way to release stored energy.
And one doesn't even have to be an addict to understand why something that is so easy and so nice is so hard to leave aside. One could object that such an anthropomorphism of global dynamics is a simplification. But it seems often a straightforward explanation. Isn't technology eventually just a magnifier of the exposure of human desires? We build no things, other than the things we wish to build. Collectively we have to choose what to build.
Should there have been a warning disclaimer with the usage of our prefrontal cortex? Or a word of caution before the mega-scale external application of its analytical reasoning in automating machines? Existing signals may have been unheard by the chanting stadiums celebrating every doubling of GDP/capita. And we have accomplished marvelous achievements. The fact that you can read this, is the result of a long scientific endeavour, technological breakthroughs and the devotion of energy and activity to the establishment of infrastructure, production of devices, belief in the dissemination of information.
These marvelous achievements have been accomplished by us, skinny mammals, by stay calm and repeat and invent and play and - above all - communicate. In speaking, writing, singing, drawing.
A word of warning, nevertheless, might have to be articulated to the unlimited application of this unique strength.
How energy technologies developed and may further develop
In the image below, you can find a mix of energy technologies, together covering a final energy demand (Globale Energievraag). This is an extrapolation of the Shell Blueprints Scenario. The general assumption is that all these technologies cover about 10% of the final global energy mix. The image takes into account the rather typical way energy technologies grow (from exponential, to linear, to market saturation).
More on this dynamic and image in: this essay (in Dutch)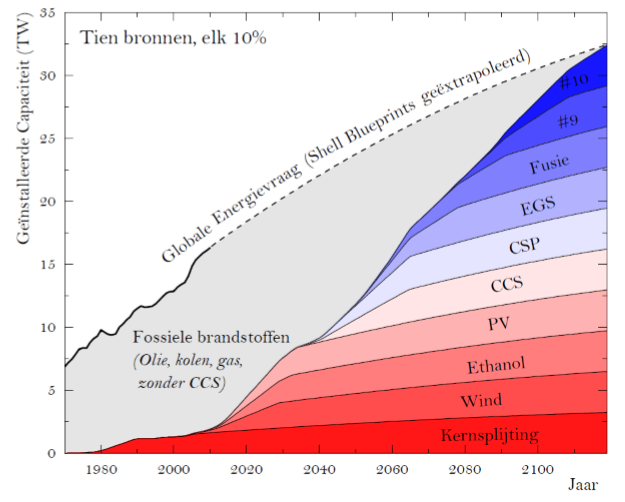 From below to the top, they are:
Nuclear fission (kernsplijting): energy from controlled nuclear fissions;
Wind power: wind mills, both onshore and offshore;
Synthetic Fuel (such as Ethanol): energy-containing molecules, powered by wind and pv typically;
PV: solar energy harnessed by photovoltaic solar panels;
CCS: carbon capture and storage (or utilisation), fossil energy (oil/coal/gas) of which the carbon-oxides are caught and re-used. E.g. to generate useful plastics or synthetic fuels);
CSP: concentrated solar power (large or many mirrors heating a fluid that chemically or phase-wise changes);
EGS: Enhanced Geothermal Energy (high and very clean and sustainable potential, provided we can drill economically);
Nuclear Fusion (Fusie): energy from controlled nuclear fusions;
#9 and #10 - can be new technologies or combination or upgrades of mentioned ones.

All the technologies mentioned above are promising, require resources and do have economical activities as well as ongoing research and development. Below I will zoom in on nuclear fission and, even more, fusion. Should you be interested in developments in other fields, find an interesting essay bundle here: Essay-book The Colours of Energy (Shell 100 years).
---